news
Read the latest documents which tells you what kalteng consultants is doing.
gallery
Find a large collection of images from many years of exploration by kalteng-consultants.
news
El Nino year 2014: Hot Spots from Borneo taken on 10. October 2014 by AQUA (MSS)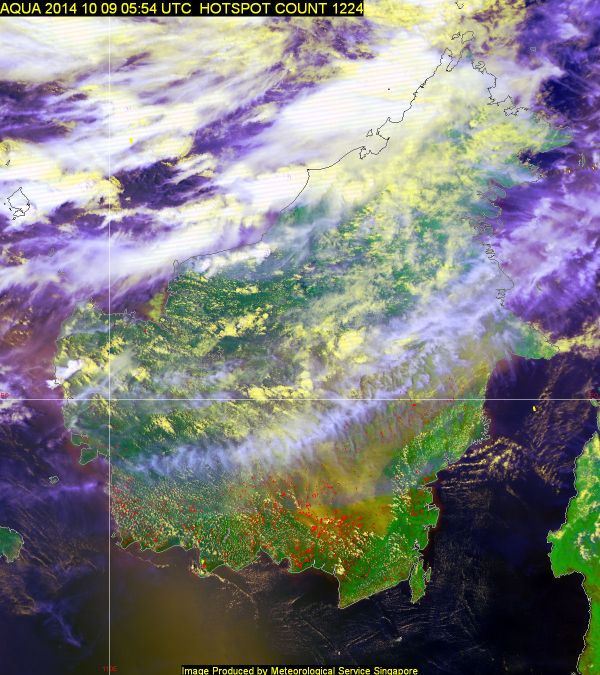 1224 Hot Spots from Borneo taken by AQUA on 10. October 2014. Many of them occuring in Central Kalimantan, courtesy by Singapore Weather Information Portal
Dear Everybody,
"EMERGENCY CALL FOR WORKING TOGETHER"
All of you who have worked and thought together with me in Palangka Raya in Central Kalimantan, Indonesia since 1993, and others, should be involved in PETROP (People of Tropical Peatland), a community of researchers, government/parliament staff, entrepreneur and observer on tropical peatland.
Since August 31, 2014 the number of hotspots has been increasing along the Kalimantan highway and Sabangau River, and they will be increase greatly if action is not taken now to stop the fires that are out of control. My target is to protect our conservation and research sites in the Natural Laboratory of Peat Swamp Forest (NLPSF) Sabangau and Kalampangan study Zone (northern of the former Mega Rice Project).
To protect of tropical peatland from fire, all of us should become involved in at least one of the following groups: (1) planning group, (2) budgeting group, and/or (3) implementing group. TSA KALTENG (Fire Fighting Team) is an implementing group that was established in Palangka Raya in 1997 to be constantly ready to work when there high risk of peat fire, but only if they have a budget to operate. Therefore, let's share a small piece of our lives for maintaining the earth's environments as evidence of our awareness, commitment and responsibility, although others continue to extract profits by destroying this wonderful environment.
I appeal to all of you to support this emergency PETROP-action, by sending small money from your pocket to our account. The TSA member cannot work where there is high risk of peat fires without a secured budget for operational costs (pump machine, hose, gasoline/oil, transport, food, daily compensation for worker, safety outfit, medicament, communication tool, etc). One group the TSA consists of 30 persons and they will work 24 hours in double-shift. Based on my concept and our commitments, the TSA member always stay near the hotspots for blocking and extinguish the fires while they have operational costs. I hope you can imagine how hard it is.
Name of Bank : Bank Rakyat Indonesia (BRI) Cabang Palangka Raya
Account Name : CIMTROP
Account Number : 0243-01-047268-50-0
Swift Code : BRINIDJA
Address : Jl. Ahmad Yani No. 85 Palangka Raya, Central Kalimantan (73111).
Disasters will not await our decisions. They will occur everywhere – anytime across the world.
They cannot choose what, who & where to target. Therefore, let's ACT now, be it on a small scale.
Thank you for your attention and understanding.
Best regards,
Suwido H. Limin.
Director Centre for International Co-operation in Sustainable Management of Tropical Peatland (CIMTROP)
Palangka Raya, 3rd September 2014