lidar technologies
We measure distances by illuminating a target with a laser and analyze the reflected light.
lidar-technology
Airborne Laser Scanning monitoring of Ex-MRP area to archive high-resolution topographical Maps of Peatlands in Central Kalimantan, CKPP report, 11-2007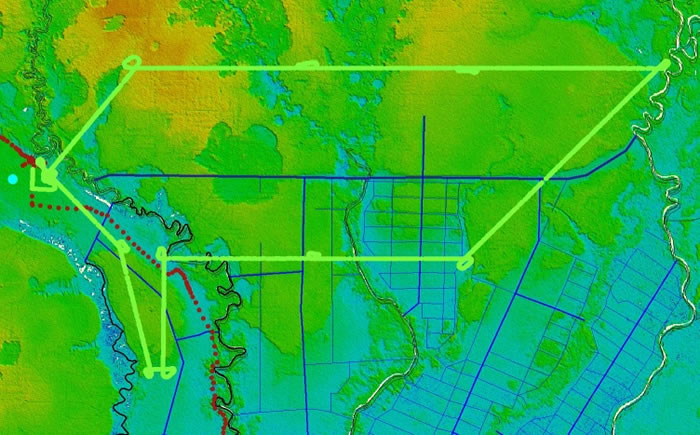 GPS-track of Helicopter Path over Ex-MRP Blocks A, B, C, E on 7.8.2007 on SRTM-image
kalteng KC-Report for CKPP WI 24.11.2007.pdf
poster wi+ckpp als-flight07.08.2007.pdf
by
Viktor Boehm and Juergen Frank
for WI and UNPAR, CKPP
24.11.2007
With a high-resolution Airborne Laser Scanner (ALS) the topography of peatlands was measured in Aug. 2007 by a helicopter to achieve a 3-dimensional Digital Elevation Model (DEM) for the Central Kalimantan Peatland Project (CKPP). The flight altitude was approx. 500m above ground. Approx. 100,000 Laser pulses / second were sending to the ground. With the received ALS-data DEMs were processed.

DEMs are divided into two types of groups. The Digital Surface Model (DSM) gathers information by Laser Scanner with trees, bridges and house and the Digital Terrain Model (DTM) is filtered using the DSM and shows the topography of landscape without trees, bridges, houses etc. With this type of information hydrology models of peatland and biomass of Peat Swamp Forest (PSF) have been analysed using this modern technology with an elevation resolution of +/-15cm e.g. in the Ex-Mega Rice Project (Ex-MRP) area of Blocks A, B, C, E and additionally in the Sebangau National Park.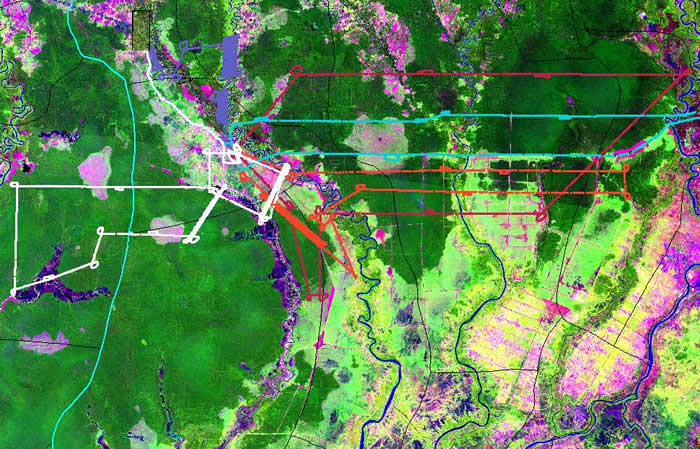 LiDAR Flight Tracks near Palangkaraya, CentralKalimantan, over the Mega Rice Project in Blocks A, B, C + E
and over the peatland with peat swamp forest (PSF) in Sabangau National Park