lidar technologies
We measure distances by illuminating a target with a laser and analyze the reflected light.
lidar-technology
Successful Helicopter Flight Trials with Airborne Laser Scannig Technology to measure Peat Swamp Forest Height and Peat Domes in Central Kalimantan; Yogyakarta 8-2007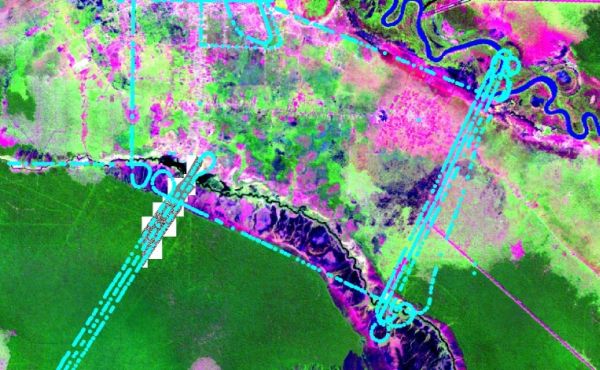 Helicopter flight tracks over Block C and Sabangau, CIMTROP-transect
Boehm, Rieley, Suwido,Frank,Mustafa-ALS-LiDAR in Carbopeat-2008, Yogya2007.pdf
Proceedings of the International Symposium and Workshop on Tropical Peatland, Yogyakarta, 27-29 August 2007Carbon-Climate-Human Interactions in Tropical Peatland: Carbon Pools, Fire, Mitigation, Restoration and Wise Use
Dr. H.-D. Viktor Boehm 1, Prof. Dr. Jack Rieley 2, Dr. Suwido Limin 3, Juergen Frank 1 and Mustafa Syafrudin 1
1 Kalteng Consultants, Kirchstockacher Weg 2, D-85635 Hoehenkirchen near Munich,
Germany and Palangkaraya, Email: viktorboehm@t-online.de; www.kalteng.org
2 University of Nottingham and CIMTROP
3 University of Palangka Raya and CIMTROP

Keywords: Peatland Topography, Peat Drilling, Minerals, Carbon Storage, Fires, DEM, Airborne Laser Scanner (ALS)
Summary
With a high-resolution Airborne Laser Scanner (ALS) the topography of peatlands were measured by a helicopter at the beginning of August 2007. 34 peat drillings were performed between Habering Hurung near to the Rungan and the Katingan River including ALS- and ortho-photo measurements. A 3-dimensional Digital Elevation Model (DEM) has been established for the Kalampangan Channel in Block C of the former Mega Rice Project and for a transect through the Natural Laboratory in the Sabangau National Park, starting from the Sabangau river, passing the base camp and reaching the peat dome. A transect was also analysed between the Rungan and Katingan Rivers. A hydrological model of peatland with biomass of peat swamp Forest (PSF) will be analysed by this modern technology with an elevation resolution of +/-15cm. Illegal channels in Peat Swamp Forest (PSF) were monitored. The first results of ALS- and ortho-photo measurements were presented.